Have you heard of the latest UN Intergovernmental Panel on Climate Change (IPCC) report? We've been given a red warning that we are destroying our planet and action needs to be taken yesterday. It's frustrating. It's scary. It's something that deeply affects us all.
We know we need to work even harder to spread the concept of libraries and promote the sharing economy! Will you help us? We've created an image to spark discussion and encourage the community of Ottawa to borrow and share resources: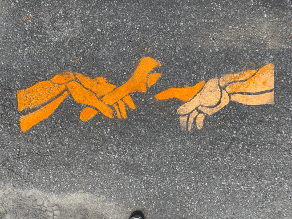 We want to spray paint the above image with bright homemade chalk spray paint in bright colours around neighbourhoods close to the OTL.
The whole campaign will be zero waste, since the spray paint is made of coloured chalk, cornstarch, and water, and the stencils are cut out of discarded cardboard. The chalk paint will wash away in the rain and the cardboard can be recycled.
The aim is to stop people on their way to work, school, the grocery store, wherever they're heading. It's meant to pique peoples' curiosity, generate discussion about the impact of our consumption habits and lifestyle on our environment, and to promote the sharing economy and the OTL.
Will you help us to paint the town?
The Plan
We'll meet one evening in the next week or two (depending on weather), give you an intro on how to spray paint, an address where to do it and of you'll go with another fellow volunteer or two to spread the word.
When: On Day, October XX at 5:30 pm
Where: We'll assemble at the Ottawa Tool Library (887a Boyd Ave) to gather the materials and provide instructions! Then we hit the streets! Each group will be given clear instructions the day of on where to go and how to apply the spray paint.
What: We have all the materials ready (everything we need for the campaign was either made from recycled products or eco-friendly products that won't harm the environment).
Sign up!
Are you in??!! Please email us at info@ottawatoollibrary.com by Day, XX October to let us know if you can join and if you're bringing more sneaky guerrillas with you to help out!